HIPS HDD Blister

PET-A HDD Tray
PP Foam Tray

Automotive PP Tray

MATERIALS FOR THERMOFORMED TRAYS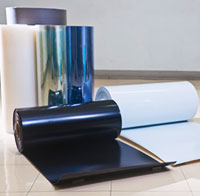 AVAILABLE TYPES:
PS : Polystyrene
PET-A : Amorphous Polyethylene Terephthalate
PET-G : Polyethylene Terephthalate with Glycol
PP : Polypropylene
PVC : Polyvinyl Chloride

OTHER LESS FREQUENTLY USED MATERIALS:
PPO : Poly-phenylene Oxide
ABS : Acronitrile / Butadiene / Styrene
PC : Polycarbonate
HDPE : High Density Polythylene
DEFINITION OF ESD
What is ESD?
Electro Static Discharge
Rapid energy transfer from statically-charged bodies or materials to or from Electro Static Discharge Sensitive electronic devices (ie ESDS devices)



Most electronic devices are ESD sensitive.
– sensitivity depends on product and design.
CLASSIFICATION OF ESD SAFE MATERIAL

Based on Surface Resistivity in ohm/* (Ω/*)
SR > 10¹² Ω /*

insulating

10E9 Ω /* SR < 10E11 Ω /*

antistatic

]

< 300 V
< 48 hrs decay time
10E6 Ω /* SR < 10E8 Ω /*

dissipative

]

< 100 V
< 2 secs decay time
SR 10E5 Ω /*

conductive

]

< 50 V
< 2 secs decay time